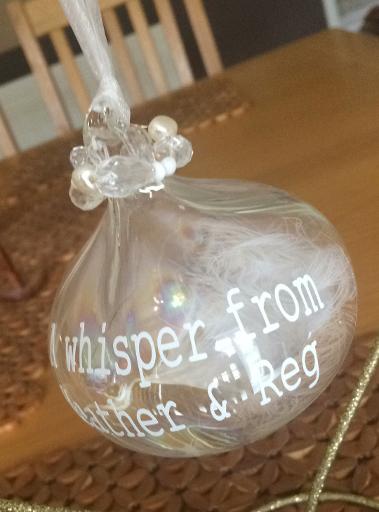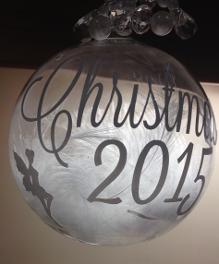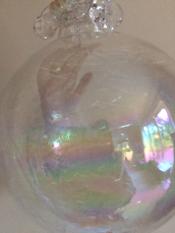 THESE ARE MY MOST POPULAR ITEM AT CHRISTMAS SO ORDER SOON AS THEY DO RUN OUT AT THIS TIME OF YEAR
MemoryGLASS baubles ..... very poignant for me - love white feathers appearing.... a message.... who knows but it's nice to believe! There is also an "angel hair" version for those that prefer something different to white feathers. These are an iridescent bauble that has iridescent strands inside - overall look is like looking at a bubble! As a finishing touch both versions come with gems attached to the top. The new bauble this year 2017 is the onion shape - this still has the signature white feather and is decorated at the top with clear gems.
I have designed them to be understated and simple but they are certainly time consuming being small writing to make and cut out of vinyl.
At £12 They are more a gift for someone rather than buying lots for your own tree! They do come individually gift boxed. They would make a lovely present for anyone but especially people that have lost loved ones.
Can I stress they are NOT PLASTIC- nor are they cheap glass baubles with the metal pin tops - these are all fused blownglass and really do look much better than the pictures portray!
I only have a picture or writing on one side so please have a look at the pictures and see which option you prefer, you can choose to have stars instead of heart or birds as that would work too.Personally I prefer the writing in white - makes it subtle and chic but have shown examples of a typewriter font in black too in case you would like the personalisation more prominent. If you are interested do contact me asap as they are limited availability and are flying out my door!